Alexis Tsiamoglou (Grecia) – ENCOUNTER
Saturday 29th September  22.15 pm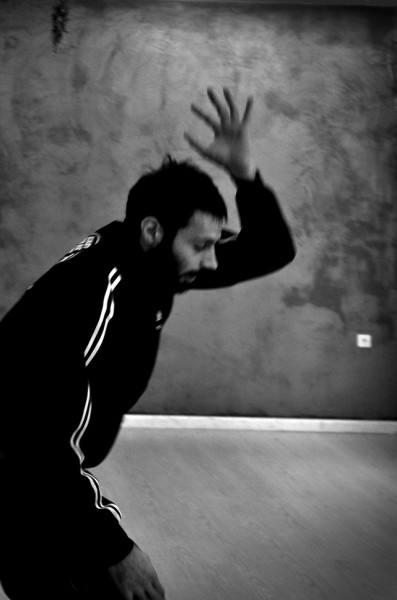 Teatro Kismet OperA
NATIONAL PREMIERE
by Alex Tsiamoglou
with Alex Tsiamoglou and Betty Dramisioti
live music Kostas Pantelis
In this piece, the two performers move from the encounter with their self to a kinetic engagement with an imaginary partner. Physically alone, but also in the presence of the other, the performers complicate the solo/duet and the reality/fantasy distinctions. The challenge to the self, by means of the encounter, is both real and imaginary and leads to its re-definition.
The piece was initially conceived by Alexis Tsiamoglou as a solo in the framework of the Re:Act (GR)festival. It was performed by him as a work in progress on 6 May 2012.
ALEXIS TSIAMOGLOU was born in Ravenna Italy in 1981. He began his training in theatre as an actor (Drama Research Centre Thessaloniki) and later on at  professional dance school (Rallou Manou Athens). He did workshops with Kirstie Simson, David Zambrano, les Slovaks, Matej Keszar, Abigail Yager and Lali Ayguade. He is a member of the dance collective Default Co for which he performed 2 productions and for the 50 collectiVe with which he performed in Barcelona. He has given workshops of contemporary dance and improvisation in Italy, Hungary, Netherlands, Spain and Greece and teaches regularly contemporary dance and improvisation. In 2010 he was chosen to work and give performances with David Zambrano on his project '50 days of Flying Low and Passing Through' in Costa Rica together with 50 dancers from all over the world.Lately in Hungary he coaches international youth groups (open level) to create performances in public spaces with social impact (prisons, squares, open air festivals).Currently he is living and working in Thessaloniki with the Sinequanon dance collective creating pieces for the National Theatre of Greece and for the International Dance Festival of Kalamata (GR).