Barbara Toma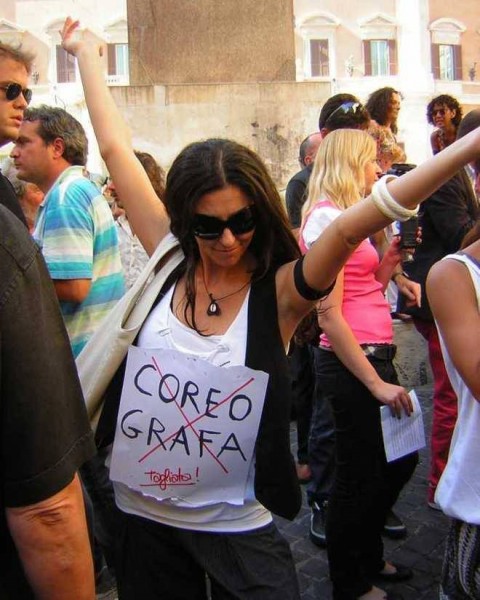 I do not know what I am, what I do
maybe I'll do the designer
by Barbara Toma
9 young dancers on stage are compared with their dreams, their fears, their desires, their deepest passions and the desire to emerge …
BARBARA TOMA
If I had to define with a single term my occupations:
-as interpreter "an indomitable stage animal"
-as a dancer / choreographer "no longer young but still promising, certainly professional and driven by a strong need to create"
-as a teacher "anti conventional, demanding, energetic"
-as curator of the festival and theater seasons "sincere, selfless and utterly out of place"
I am a Southerner Italo-Dutch.
From the south I got the passion and creative tenacity, from the north a desire to work and an inexplicable faith in meritocracy.
I do not take myself too seriously and I love to play around.
My passion for theater and dance have always been my driving force, inseparable from my personal life and
from my strong interest in social issues.
In 1998 she graduated in new dance and choreography at the School for New Dance Development in Amsterdam.
She worked as a dancer in several projects in the Netherlands, Germany and Austria.
In 2001 she returned to Italy where she began her personal journey of artistic creation and dance for the company Deja Donne.
Among her creations: KRUDA (2001), DOOD (2003), GIACOMOGIACOMO (2004), FREEDOM (2006), ORBATA (2007), studies for portraits # 1.GIANNA (2009), PLURAL FEMALE (work started in 2009 and evolving) and the portraits LE FERITE CHE MI SOMIGLIANO (2010)
In 2006 he founded the cultural association robabramata.
In 2008 she won the tender DE.MO. / Movin 'UP sponsored by the GAI and participates in the INTERNATIONAL FESTIVAL OF WORDS AIUEX (CAMEROON) with the show FREEDOM.
Since 2009, she work for ALDES dance company of Roberto Castello.
She regularly teaches choreography, improvisation and contemporary technique in various areas.
Since 2006 he is also involved with the program LET RECOGNIZE,  which she made several productions with.
Barbara Toma has conceived and curated at the CRT theater art of the Milan International Festival of New Dance SHORT FORMATS 2005 (THE SURVIVAL KIT), in 2006 (THE INVISIBLE POWER KIT) and in 2011 (RUNNING OUT OF CULTURE). From 2007 to 2014 she worked at the theater PimOff of Milan, first as head of dance programming and then as artistic director of the entire theater.
Her work leaves a lasting impression and transforms PimOff into a real focal point for dance and experimental theater in Milan.