Greatest hits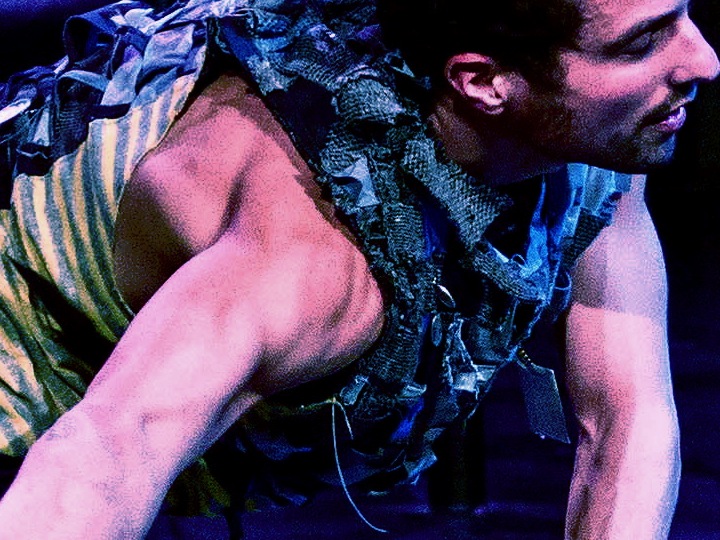 Concept, choreography, performance: Simon Wehrli
Dramaturgy, Outside Body: Jasmina Križaj
Dramaturgical advisor: Guy Cools
Light design, Set design: Nina Langosch
Costume design: Urša Recer
Coproduction: Tanzhaus Zurich
Residencies: Dampfzentrale Berne,
Théâtre de l'Usine Geneva
Supported by: City of Zurich Culture, Canton of Zurich
Culture, City of Winterthur, Gottlieb & Anna
Geilinger-Foundation, Cultural founds of Société
Suisse des Auteurs (SSA)
"Riders on the storm
Into this house we're born   
Into this world we're thrown
Like a dog without a bone   
An actor out alone"  
The Doors
There is no story to be told.
His biography is not providing enough excitement for that.
But his pathetic striving for immortality is sufficient to fail successfully.
A piece for a solo entertainer and few objects.
A piece about humans and other ways of being.
A piece with pathos and some blank characters.
In his first evening length production Simon Wehrli moves on the thin line between banality and intensity. He explores what it means to be in actuality and invites the audience to embark onto a journey of embarrassment, amusement and passion.
"The moments of happiness start already at the entrance."
Neue Zürcher Zeitung (NZZ)
"It has hit potential how Simon Wehrli undergoes stereotypes and drifts meaningful into the unknown."
Tages Anzeiger Zürich
Simon Wehrli (1983, Winterthur – Switzerland)
After a short and successful music career as a drummer and violinist he studied physical theatre at Scuola Teatro Dimitri (CH) and contemporary  dance at Laban School in London (UK). Since 2009 he has been touring intensively through Europe, Africa and the USA as part of the Swiss-based movement theatre collective Spettatori and the dance-improvisation project 50collective. As dancer musician and actor he collaborated with  choreographers in London (Lizzi Kew-Ross), New York (Judith Sanchéz-Ruìz) and Brussels (David Zambrano). In 2010 he was selected to participate in "50 days of flying low and passing through Costa Rica" led by David Zambrano.
Solo creations include amongst others: "übernüt" (2011, in the frame of 12Min.Max. at Tanzhaus Zürich, CH), "Irgendwo zwischendrin bin ich dann wohl verloren gegenagen" (2012, Alte Fabrik Rapperswil, CH), "Greatest Hits" (2013, Tanzhaus Zurich).
Together with Jasmina Krizaj and in co-production with the festival passe ton Bach d'abord 2013 Toulouse he created the performance "False entries". Also in 2013 he performs in the new creation of Il Collettivo Spettatori and he danced in "Tierras enamoradas" by David Zambrano at Garage 29 Brussels (B).
2014 he will tour "Greatest Hits" and perform in the new piece by Cristina Planas Leitão & Jasmina Krizaj (Premiere: Hellerau Dresden).
Simon also teaches dance technique and improvisation in various places.
www.swehrli.blogspot.com