Maristella Tanzi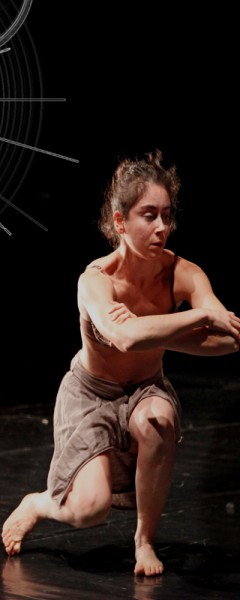 Maristella Tanzi is a dancer and a dance author based in Puglia.
She studied contemporary dance in Italy and abroad with dancers and teachers such as: A. Carallo, J.A. Stanzak, O. D'Agostino, R. Giordano and G. Rossi, R. Murgi, M. Tompkins, company MK, D. Zambrano, K. Simson, E. De Mello, K. Adibi, M. Lucenti, B. Caverna, F. Faust, A. Nari, E. Ernesto, S. Chen, V. Sieni, P.Y. Cool.
As founding members of the QuaLiBò company, she has danced in the company's dance works under the direction of L. Masellis. She has also worked as dancer for Sosta Palmizi, Teatro Crest (Taranto), Compagnia Luna Nel Letto (Ruvo-Bari), Tabea Martin (International Dance Raids project -OperaEstate Festival Veneto- Switzerland), Evelin Stadler (Germany), Compagnia Acasa (Bari) . She began her authorial career in 2008: together with Francesca Giglio, she created Partitura Privata, selected for Anticorpi XL Showcase.
Always with Francesca Giglio, in 2009 she cretes (due)perdueperdue, Anticorpi- eXpLo 2009 list creation and in 2011 Valkirie, a performance for urban spaces. She is the winner of GD'A Puglia 2011 with the show N-esimo Progetto Fallimentare, selected for N.I.D. PLATFORM 2012. Selected by Anticorpi XL Network partners  for "Prove d'Autore XL" 2014 (Creative Residence at the Toscana Junior Ballet). CollaborAction 2014 Award Finalist (Azione Anticorpi  XL). Since 2014 she is a dancer and actress, trainer and movement advisor for Seven works of Mercy and a half, directed by S. Marci (co-production Festival StartUp- Taranto, La Luna nel letto/Tra il dire e il fare, UNA.net network). In 2015 she created Mutual Domestications, a training and staging project with semi-professional dancers. In 2016 she danced for Evelin Stadler (Germany) in Uncanny Valley (production Festival Musik An ST Martin-Kassel, Europäische Kirchenmusik Festival-Schwäbisch Gmünd, Festival Alps Move-Bolzano). In 2017 she danced  for Angelo Petracca in Studio Sulla Purezza (DAB _Teatro Abeliano- Bari, Vetrina Anticorpi XL 2017- Ravenna) and, as author and performer, she creates a new production, Semplice Danza In Levare (co-production QuaLiBò- Sosta Palmizi Support of: Tuscania Progetti per la Scena , SPAM-Aldes, Teatro Garibaldi- Bisceglie). Also in 2017 she is co-author and performer in the collaborative show (S) workers (Compagnia Acasa- Bari). Semplice Danza In Levare premiered in February 2018 in D.A.B._ Dance in Bari, by Teatro Pubblico Pugliese at the Teatro Abeliano (Ba), receiving a warm welcome from the public and operators. she is currently associated artist of the company Sosta Palmizi.
Alongside her activities as a dancer and author, she deals with training in dance and movement research and audience promotion projects.