Maristella Tanzi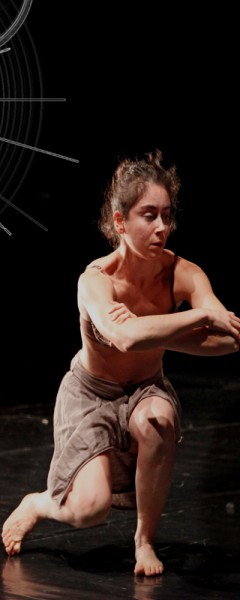 Maristella Tanzi
has been studying contemporary dance in Italy and abroad with  A.Carallo, J.A.Stanzak, O.D'Agostino, R.Giordano e G.Rossi, R. Murgi, M.Tompkins,  MK, D.Zambrano, K.Simson,  E.De Mello, K.Adibi, M.Lucenti, B.Caverna, F.Faust, V.Sieni, T. Martin.
Moreover she has studied hata yoga, capoeira, acrobatic gymnastics.
She is dancer and dance author, she practices improvisation between dance and music and she makes site specific performances.
She acquires choreographic composition studying with O. D'Agostino (1997/2000: triennial multidisciplinary project "L'Arte del percepire"), making performances in Bari, Carloforte, Cagliari, Bologna. Inside this formative project, in 2000 she makes an exchange with the faculty of dance of Paris VIII, deepening her knowledge on the history of dance.
From 2008 onward, Maristella starts a collaboration with Francesca Giglio: they make Partitura Privata , chosen for Vetrina Anticorpi XL; in 2009 they make (dueperdue)perdue, Anticorpi-eXpLo list creation; in 2011 they make Valkirie a urban performance, chosen for  Vetrina Anticorpi XL.
She has been semifinalist in GD'A Puglia 2011 Prize.
She has been collaborating with Teatro Kismet Opera in 2008/2009 Theater and Handicap project.
From 2002, she has been dancing with  QuaLiBò, under the direction of Lisa Masellis.
The association QuaLIBò, of which Maristella is a founder member, works for contemporary dance diffusion, organizing, for example, inside Teatro Kismet OperA (Bari) the International Contemporary  Dance Festival  "Visioni di (p)arte" ( already six editions performed) and running the Teatro Comunale di Ruvo with the association "Tra il dire e il fare" .
From 2003 to 2006, Maristella has danced for the "Sosta Palmizi" in "Hic!" and "Lolita"(by S. Benni, P. Damiani, G.Rossi).
From 2004 to 2010 she has been actress in "StoriEgiganti"(produced by Teatro CREST- Taranto), a show for children.