Partitura privata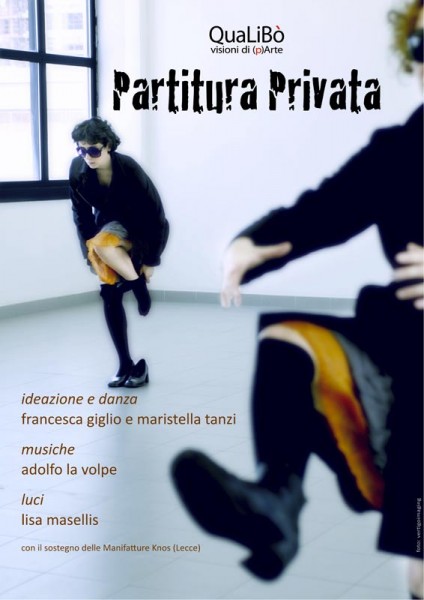 …showing to an audience something must remain unseen, showing
something needs some privateness and discretion.
With this performance we show the body in its "truth", we register a
mood.
We show the tiresome and ungrammatical portrait. The involontary
movement able to made up a score. The getting back of something
already known and the listen to something is blowing off.
We expose an intimate relation with no real touch. This is what you'll
see, what is for sale, what is true.
Two female gures are in an empty space. A clumsy crippled
strip-tease.
Dedicated to an absence.
A dance performance made of direct physicality and an essential expressive form.
Emotion becomes space, presence and memory.The play is to blink at the audience and to brush aside it when the tell becomes more intimate and bodies become vulnerable. In a bare scene, two female bodies, two similar gures, probably a double, create a private room,
without caring too much about outside observer.
| | |
| --- | --- |
| Concept and dance: | Francesca Giglio, Maristella Tanzi |
| Music: | Adolfo La Volpe |
| Lighting design: | Lisa Masellis |
| Production: | QuaLiBò _ Con il sostegno di: Manifatture Knos (Lecce) |
Performed: Teatro Abeliano (Bari), Manifatture Knos (Lecce),
Vetrina Giovane Danza D'Autore '08 (Ravenna), Teatro Kismet OperA (Bari)
Inside off (Torino)
More images on web site: www.vertigoimaging.it/qualibo2