Pro-fuga – Sounds, sights and migrants' fragrances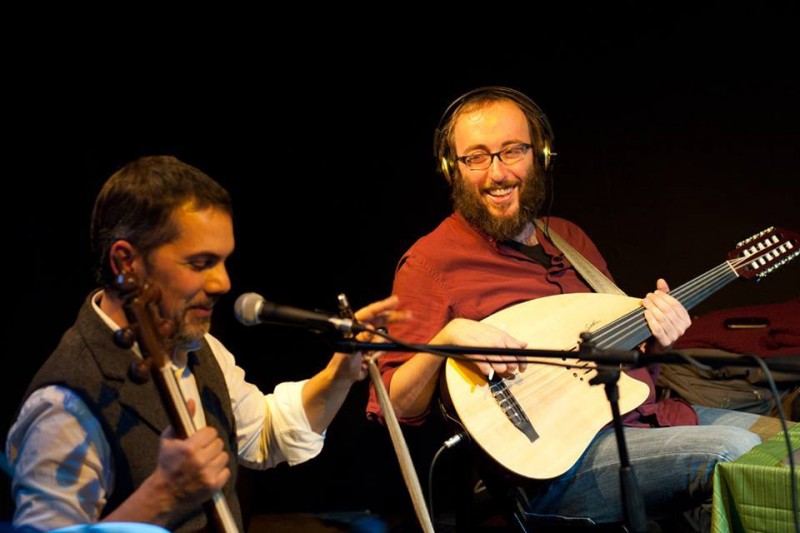 Two musicians meet and interact with Mediterranean musical instruments, offering an exciting journey through the migrants' music, the electronics and the art of cooking.
Pro-fuga is the result of a research through sounds and ingredients  far from each other, a research that, note after note, will put on a table a dish made of a new need of nourishment not only physical.
Adolfo La Volpe
Oud, saze, bouzouki and programming
He studied, among others, with Mick Goodrick, Joe Diorio, John Scofield, Pat Metheny, Barney Kessel, Joelle Leandre, Carlos Zingaro, Jean Derome, Joanne Hetu, Marcus Stockhausen and Gianni Lenoci, under the leadership of which he obtained the second level academic degree in musical disciplines – jazz at the Conservatory in Monopoli and also a master's degree in "jazz and new musical languages." Practice and also examines some traditional music and musical instruments related to them (oud, Portuguese guitar, Irish bouzouki, saz, banjo, etc..).
He has given concerts in Italy and abroad (France, Switzerland, Spain, Germany, Austria, Turkey), recorded -between personal projects and collaborations- twenty CDs, and played-among others-with Eugenio Colombo, Gianni Lenoci, Steve Potts, Stefano Battaglia, Daniele Di Bonaventura, Pine Minafra, Francesco Cusa, Paolo Damiani, William Parker, Karl Berger, Kent Carter, Radiohead, Raiz.
He is a member of the ensembles: "Chaque Objet", "Diomira", "l'Escargot", "Radicanto", "Barrio de tango", "Tran (c) formation", "The cantiga de la serena", "Sefarad", and the dance company "Qualibò", for which-in addition to composing and performing music-is responsible for the musical direction of the Festival "Visioni di (p)arte" and the dance section of the Teatro Comunale di Ruvo di Puglia. He has composed and performed music for contemporary dance, theater and cinema.
Giovannangelo De Gennaro
voice, fiddle, Kamanchè, and kaval flute & food
Giovannangelo De Gennaro is a musician and from about 8 years dedicated particularly to the Mediterranean cuisine.
His research spans sounds of "border" and is enriched by a strong innate passion: cooking.
Son of a fisherman, he was, from an early age, close to the sea and its universe. Observer, traveler with the mind and the body', he makes of his dishes travel stories, swinging between cooking and music. He is defined as the 'needle of a balance, the Mediterranean Mizan hanging from one side to another and finding the right balance in a dialogue "thought" with the palate; a dialogue made with intuition, curiosity, knowledge and intellect.
In his musical journey he met the great masters from all over the world music as Nustrat Ustad Fateh Ali Khan (Pakhistan), Jamal Oassini (Morocco), Michel Godard (France) Kudzi Erguner (Turkey), Bob Mecferrin (USA), Sufi Brotherhood of Sfax (Tunisia), Begonia Olavide (Spain), Arash Yari (Iran) and Ramiro Amusategui (Argentina-Spain). He works as a chef in France starting from Apulian traditional dishes  and reaching a connection of different cuisines, with the goal of  reating menus that go beyond the boundaries, abolishing the standardization. Music and cooking are his passions. He attended as a singer, residential workshops and seminars at the Fondation Royaumount and CIRMA of Moissac conducted by maestro Marcel Peres studying sacred monody and polyphony from the eleventh to the fourteenth century. He later became cantor soloist of the Ensemble Organum directed by Marcel Peres. He works in various bands, Micrologus, Mudejar, Company Hora Decima, Avinar and Terra d'Otranto which participates in numerous festivals and radio recordings.
Records for: Naive, Zig-Zag Territories, Alpha, Enja, Opus 111, São Paulo, Tactus, III Millennium and Contemplative Digression.