Puls*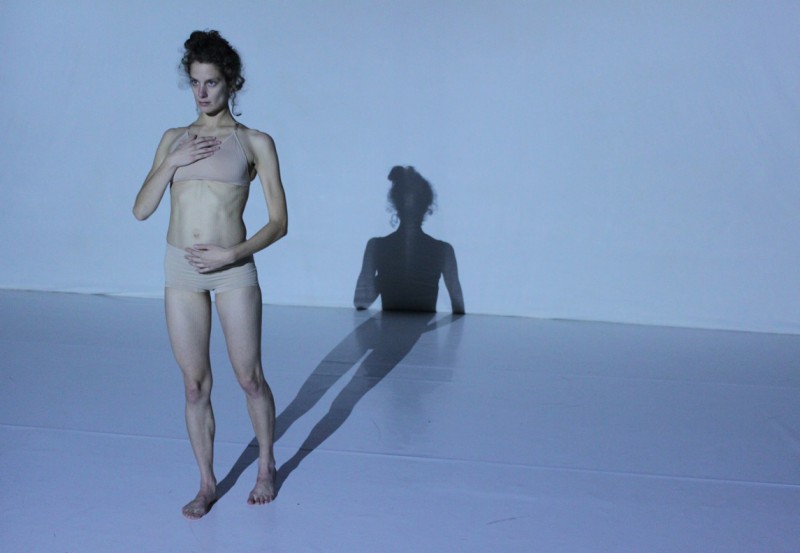 PULS* – a strong desire
Concept/choreography – Marie Goeminne
Dance – Maaike van de Westeringh
Text – Siska Goeminne
Music – Alberto Novello
Projection design support – Jan B. Mwesigwa
PULS* is about the deep longing for reliance.
The desire for embracing life in all its facets and without fear.
How can this longing, as pure as possible, be expressed through the body and words?
Driven by this question choreographer Marie Goeminne and author Siska Goeminne are searching for a unique performance form: music, movement and language are evoking different interpretations of this fundamental longing for life without fear.

Marie Goeminne (1977 Deinze/Belgium) lives in Amsterdam
As a choreographer and a performer Marie investigates the borderline between visual art and dance. She studied dance, acting and film at the art school in Brussels and graduated in 2000 at the EDDC (school for dance-makers) in Düsseldorf/Arnhem.
Marie worked for different artists like Mary Fulkerson (Germany), Rui Horta (Portugal),  Helge Musial (Germany), Ingo Reulecke (Germany), David Hernandez (Belgium), Yael Davids (Amsterdam) and tatraum projekte SchmidT (Düsseldorf). Since 2008 she established an artist collective 'Kudde'. The collective got subsidies for the project IKBLIK, Stad in Beweging, 3 x Suzy, Ssshht de stad and HEAD.
www.mariegoeminne.com
www.kudde.info