Sūr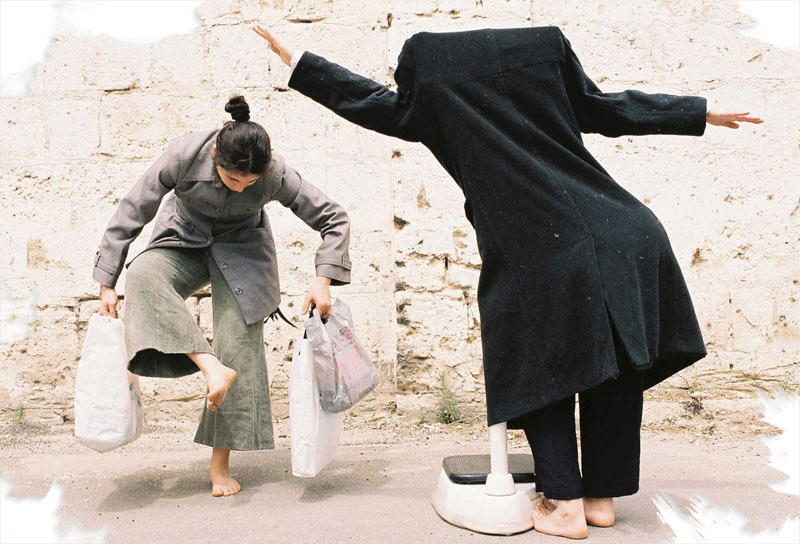 Scenario Award Finalist 2005
Shadow Jury Award IV
Sūr is the ancient city, suspended in time, disappeared. It is a border town separated from the ground and attached to it by the will and not by nature.
It is a suspended, dreamlike and surreal place.
A scales on stage is the only fixed point, the third element, without which the other two vanish.
It is there to define us and especially to define the relationship between us.
It is there to define the space … right, left, up, down, inside,  outside.
It is the sign of the rational, logical, grounded, linear and it is there to carry out its function: to tell us about  the weight and, above all, to tell us about  things that have no weight.
The work is primarily an analysis of a female form of creative thought.
A knowledge path that does not proceed in a linear way (for developing cause and effect), but in clusters, through  free association.
Sūr is the dream, the not expressed, the censored and repressed.
Sūr, a love story.
| | |
| --- | --- |
| Concept and direction | Lisa Masellis |
| Dance: | Francesca Giglio, Maristella Tanzi |
| Music: | Adolfo La Volpe |
| the piece  "In cammino" | Alessandro Pipino |
| Lighting design: | Michelangelo Campanale |
| Scenes: | Michelangelo Campanale, Giovanna De Cillis |
| Costumes: | Giovanna De Cillis |
| Precious collaboration: | Vittorio Dell'Edera, Giuseppe Lacerenza. |