Tristissimo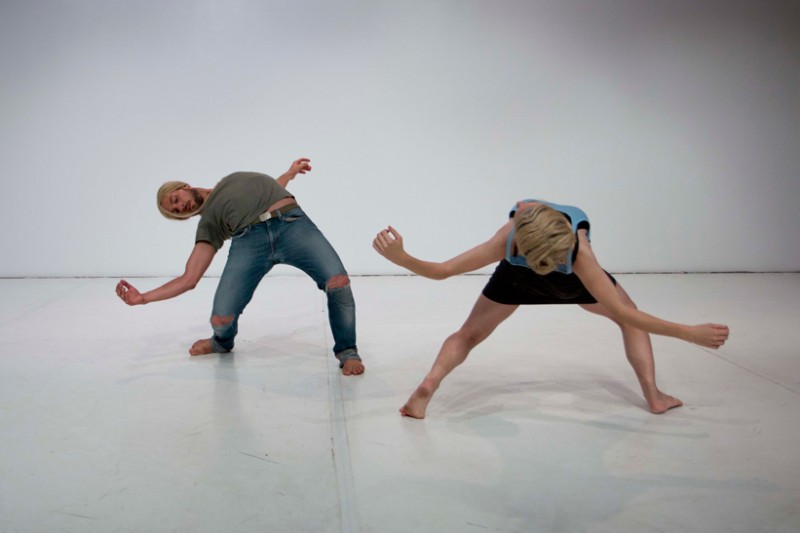 Director / Choreographer: C & C
with: Carlo Massari and Chiara Taviani
Photos: Veronica Billi
Music: Wagner- Tristan und Isolde Prelude, Rameau- Tristes apprêtes Pâles flambeaux, Rick James-SuperFreak
Site: www.ceccompany.org
Official Partners: Pim Off, Ballet National de Marseille, 2014 Next
and with the support of: Danzarte, Residenza Idra, Italian Institute of Culture in Edinburgh, UOT, the pergola Monaco.
First study presented at festivals: Manipulate Dance Festival (UK), Made in Rovereto (It), Next 2014 (It) Caffeine Festival Lecco (It), IETM Bergamo (IT), Parvi of the Opera de Marseille (Fr) Return Brescia to the Future (It).
Tour: Pim Off Milan (It), Saana Festival Holen Norway (N), Manipulate Dance Festival 2017 (UK), Multiple Penetrations 2015 Rome (It), Antibodies Ravenna 2015 (It), Edinburgh Fringe Festival 2015, Dance Base Edinburgh (Uk ) and others in discussion
"A perfect day, a perfect world, then suddenly everything goes awry.
It seems a tragedy, the inspiration for a prologue, a true story, the end of a world, the world. All at the hands of man … for the proclamation of freedom, achievement, interest, beauty.
We wondered what makes it sad, what kills us.
What shape is this sadness, what it does to our bodies and our little heads blondes.
We found that there is a kind of blue monday mega world depression, there are no tragedies with happy endings nor wars without fallen … And we go … "
Tristssimo is the second chapter of a study of the company called "The trilogy of pain" with the intention to deepen and discover the language of the company through the ideas and the history of a "universal temone" as "pain."
Sad comes with listening to the prelude of the Opera of Wagner's "Tristan und Isolde", and then result in a processing of personal feelings of sadness, loss, dead mundane, repetitive, ridiculous.
The search for a melancholy, sad, a little out of focus, able to tell, without overwhelming the stories and feelings of everyone, a place known as a common depression dimensional.
Wagner had as patron Ludwig of Bavaria according to the commissioned works and works to accompany his beloved depression. Ludwig declared insane died amid the scores of Wagner, he, by declaring eternal grace not stopped composing pieces for a more recognizable than ever and feeling melancholy.
C & C is the collaboration between two independent artists; Carlo Massari (84) and Chiara Taviani (85).
They meet in the company of Ballet Civil Michela Lucenti in 2010.
In 2011 it comes the first show "Body and Culture" (2011), is followed by "012″ (2012), "Sorrowful Mother" (2013) and "sad" (2014). They presented the work in different national and international festivals; Well Festival (UK), Tanzimpulse (Au), Accidental Festival (UK), Lucky trimmer (D), Wonderland (It), Out of Place (It), Quinzena de dança de Almada (P), Mk 11 Paris (Fr), Edinburgh Fringe Festival, Manipulate Dance Festival (UK) …
Rewarded and recognized on several occasions:
Open Stage Award / Pim OFF (It), Prix du Jury HiverOclytes / Les Hivernales (Fr)
2nd International Competition for price choreographer in Hannover (D), 2nd prize in the Short Dance choreography (It), 2nd price of the Jury Zawirowania Dance Competition in Warsaw (Pl), Audience Price Khonzert Theatre in Berne Suisse (Ch).
Clear Taviani
Born in Genoa on 29/06/85
Early studies at the Academy of Ballet 'Princesse Grace' of Monaco under the direction of Marika Besobrasova, later in Milan with the masters Dimitri Chabardin, Emanuela Tagliavia and Maurizio Salvalaglio. It reached after the group 'Coline' near Marseille in France where it will be directed by Bernadette Tripier interpreter for the works of Emanuel Gat, Edmond Russo et Shlomi Tuizer, Mathilde Monier, Georges Appaix, Salia Sania et Seydou Boro, Lisi Estaràs des Ballets C de la B. He also began his collaboration with several French directors like Emanuel Trousse et Martin Tronquart with whom he worked as a choreographer in their short / medium metraggi.Dal 2010 interpreter for the physical theater company Ballet Civil Michela Lucenti where he meets Carlo Massari with whom in 2013 he founded the company C & C.
In 2014 it is selected as a choreographer for the project Prototype / Royaumont Paris, directed by Hervé Robbe where September will present the work "flower child".
Carlo Massari
Born in Bologna on 25/4/84
First experiences as a young actor / performer with the company OTE Cocks under the direction under Louis Floridia in the show The balcony of Juliet (Special Mention 'Scenario Award 2003′). Also in the same years he collaborated with the 'Theatre Company dell'Argine' working in productions: What We say tonight to the Friend who sleeps (Festival of the Hills Torinesi), Alice 171, Small Sagging Structural Divine Words. In 2003 he was directed by Maestro Luigi Gozzi in the show The Breach, production 'Theatre of Moline'; in the same year took part in the 'Venice Biennale' to star in a production of 'Teatro Nine', 'Theatre of limonaia' (Fi) Binary Dead, the latest work by Barbara Natives. In 2009 participates in the musical Grease 'Company Rancia'; parallel began his collaboration with the 'Teatro Comunale' for several productions including: Beggar's Opera directed by Lucio Dalla. Since 2010 is an interpreter for the physical theater company Ballet Civil Michela Lucenti where he met Chiara Taviani with which in 2013 he founded the company C & C.
Besides performing experience, in recent years the royal signature and texts of shows including Kafè, Anna Hats and No more anything.
Recent collaboration with the company Abbondanza / Bertoni in the show The Black Saint and the Sinner Lady.