Whimsical, el realismo mágico del cuerpo.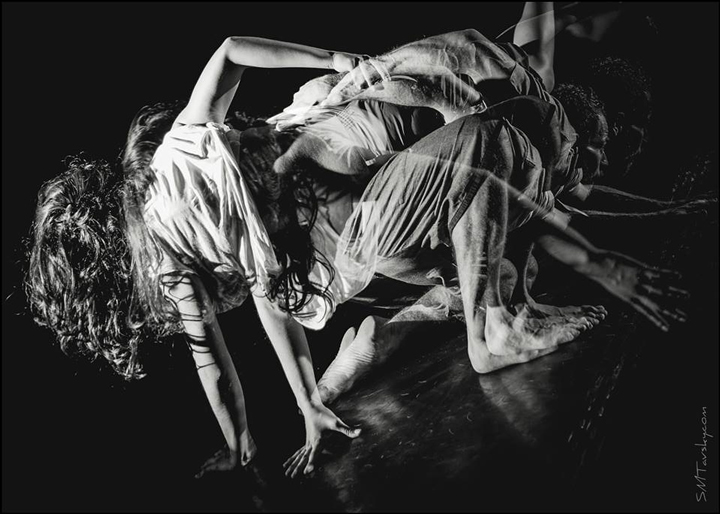 Whimsical is a duet of improvisation.  It is a physical conversation that explores the magic of relationships in their simplicity.  Nancy and Elia shed light to the encounters, the observation, the physicality and the negotiation of sharing space with another.  The play threads solos with duets, unison and individuality, silence and voice and music.  It has a structure that allows the performers to take risk, to play in the extremes of their physicality, and manifest their imagination physically to share it clearly with you.  The smoke of the incense flows, transforming the physicality of the performers, and offers a tangible view of the infinite, cycles, and of time.  This piece offers a simple, humble and profound statement on being together.
Nancy López Luna
Nancy López Luna Cano is from Mexico. She graduated from the University of Veracruz, in contemporary dance and won a scholarship "Instituo Superior" to dance in Havana. In 2008, she was part of the company "le Jeune Ballet du Quebec" in Montreal, under Didier Chirpaz. She won the scholarship "Creadores Escénicos 2013-14 del FONCA, México". In 2014, she won the "Premio Nacional" – best female dancer in Mexico.
In addition to performing and creating, she teaches workshops, specifically one titled, "Re-Conexiones".  Influenced by the work she has collaborated on with
renowned psychoanalyst Sven
Doehner, the workshop is focused on connecting your energy with your imagination and your physicality.  She has taught it to professional dancers as well as women-only groups and the general public.
Elia Mrak
Elia Mrak is a storyteller.  He performs, directs, and teaches.  His practice fuses Qigong, Bboying, Flying Low, and dramaturgy of the theater. He has performed, taught, and directed throughout the last decade of traveling and living in Europe, Central / South America, and the USA. He includes in his list of masters: David Zambrano (BELGIUM), Park Young-Cool (KOREA) and FeverOne (USA).
In 2014, he was awarded the SCUBA grant to tour through the USA with Erica Badgeley and present their collaborated solo, "erica".  In 2014, he was also awarded the Iberescena Fellowship in partnership with Viko Kaizen (MEXICO) and Martin Piliponsky (ARGENTINA) to organize a traveling project in which they created a new piece in Seattle, and a world premier in Mexico City.  In 2015, he has been working in México, Seattle and New York.
Nancy López Luna & Elia Mrak
In 2015, Elia and Nancy presented a new duet, "Whimsical" in Xalapa, Mexico, D.F., México, and they will tour that work in Bari, Italy in October.  They were also the recipient of the ACASA Residency Fellowship in Sicily, under the direction and administration of Roberto Zappala.  They will be there in November/December to produce a new evening-length work, "Walkabout".
They have taught workshops together in Xalapa, D.F., Mexico, New York and Seattle, USA.  They share a curiosity to learn, share, and perform.