Festival Visioni di (P)arte – IVth edition – 2009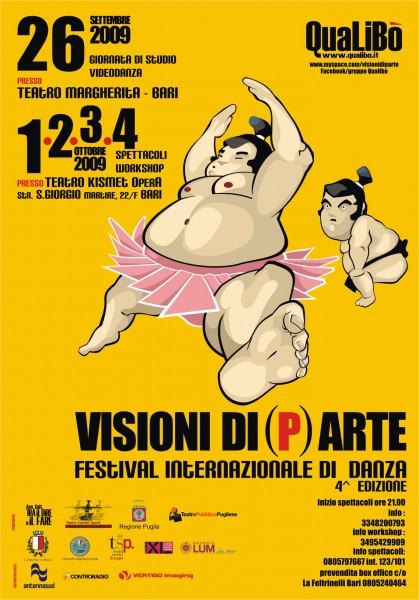 Introduction
QuaLiBò presents the 4th edition of Visioni di (p)arte Festival: a project created to sustain new creativity in our region and to exchange ideas and experiences on contemporary dance and performing arts.
This time we would like to involve people, artists, audience, critics and the city of Bari itself in our Festival. That's why we present an intense programme of performances, workshops and debates and we invite everybody to join us!
The Festival starts on 26th September with a seminar on contemporary dance (Labor section) and a video dance screening in Margherita Theatre, one of the historical theatres of Bari (Italy), and it goes on at the beginning of October with performances and workshops at Kismet OperA Theatre, which is a partner of our project.
We like mixing genres and styles, professional and emerging realities, local and international scene in the same place: on the first evening of performances 3 young artists (In divenire section) present their own works here for the first time; the evenings after professional artists coming from Romania, Hungary, the Netherlands and Italy (Danze Cave section) present their solo performances and 2 dance schools are invited to show their last projects (Faretessereincontrare section) created with the support of our Artistic Director Lisa Masellis.
Meanwhile 3 workshops (Labor section) take place: Khosro Adibi guides a group of dancers on improvisation techniques, Lisa Masellis gives a workshop on intention behind movement and Prof.ssa Tina Achilli (teaching at University of Bari) discusses with a group of students and some artists about their performances.
- Programme