Festival Visioni di (P)arte – VIth edition – 2011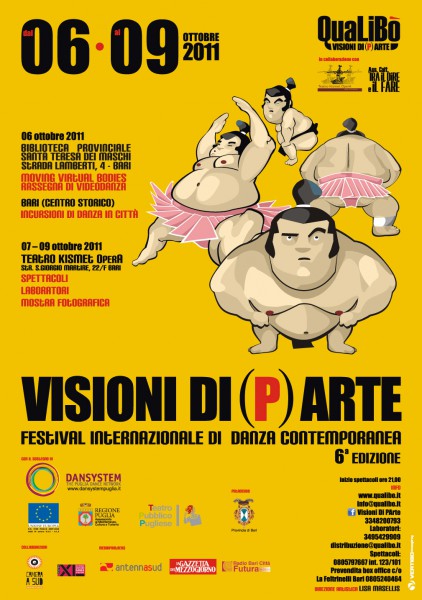 Do not try to shine like jade, but be as simple as a stone.
What the caterpillar calls the end of the world, the master calls a butterfly's birth.
A single falling  tree makes more noise  than a whole  forest  growing.
Lao-Tzu
Sixth year and we here we are offering to you a new edition looking at the future and at the same time strictly linked to the past.
An edition that aims at existing/resisting.
Preserving this public event – through constant national and international exchanges – means keeping air moving around us.
One more time we are going beyond contemporary dance to welcome different art languages and to let them dialogue to each other.
 Dedicated to Massimo La Zazzera
Box office:
8,00 euros full price ticket;
5,00 euros reduced price ticket (under 18, universitari, partecipanti ai workshop, allievi scuole di dnaza);
12,00 euros season ticket for 3 days
Info. +39 080.5797667
Info workshops: distribuzione@qualibo.it
Moving Virtual Bodies  -  videodance film programme
GREGOR LUŠTEK & ROSANA HRIBAR – Workshop
Passing Through intensive class with Lisa Masellis
The inner body – photographic exhibition
Download:
- Programme
- Programme Moving Virtual Bodies
Visioni di (p)arte is organized by QuaLiBò
in collaboration with
Teatro Kismet OperA e l' Ass. Cult Tra il dire e il Fare
funded by
DANSYSTEM THE PUGLIA DANCE NETWORK
Unione Europea P.O. FESR PUGLIA 2007-2013 ASSE IV AZIONE 4.3.2. – 4.1.2.
Regione Puglia
Teatro Pubblico Pugliese
Provincia di Bari
team up with the project
Network Anticorpi XL
Cooperativa Camera a Sud
mediapartners
Antenna Sud
La Gazzetta del Mezzogiorno
Radio Bari Città Futura
Graphis
Vertigo Imaging