Visioni di (P)arte 2014 – International contemporary dance festival
4/12 October 2014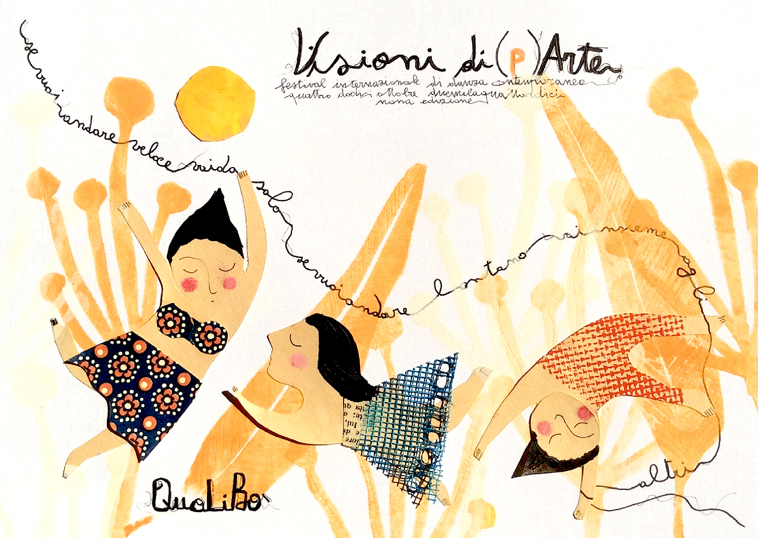 If you'd like to go fast, go by yourself. If you'd like to go far, go together.
9th edition
In the Greek mythology Nine is linked to the nine muses and one of them, Tersicore, muse of dance, is the ninth and the most powerful.
Such a number has got enough energy to embrace all the preceding ones.
Energy is a physical quantity measuring  the amount of work performed by a body or a system. The word energy derives from the Ancient Greek (enérgeia) and it's formed by en, intensive particle, and ergon, acting ability.
9 is going to be the intensive particle of this edition and MOVING is its keyword.
Our Festival keeps on moving and developing, looking for new ideas, projects and partnerships.
After being recognized as an Excellence, our Festival has always been outside the box – comparing to big events – and networking represents its great power.
It's a side vision bringing training work and contemporary dance promotion in our area.
Set between two special dancers , Simon Wehrli and Ferenc Fehèr, Flick is our precious stone this year.
Flick is a vocational project – realized in partnership with WDM and with the support of  Teatro Pubblico Pugliese (programma strategico I.C.E. – Innovation, Culture and Creativity for a new Economy) – for young local dancers seeking suitable settings and opportunities. In brief, a group of dancers can take part in auditions guided by two engaging coreographers, Barbara Toma ed Eva Sanchez Martz; they can eventually pruduce and finally put up on stage their new creative works.
This time our Festival presents enjoyable and interesting surprises with young work in progress projects and performing actions involving the audience directly.
All around there are partners and friends supporting us. Many thanks to everyone.
Programme
October 11 – Teatro Kismet OperA
21.00
Greatest hits of Simon Wehrli (Switzerland) NATIONAL PREMIERE
pause
Ten rooms by Martz Eva Sanchez (Spain) – Flick Project – NATIONAL PREMIERE
Pro-fuga – Sounds, sights and migrants' fragrances by Adolfo La Volpe and Giovannangelo de Gennaro
October 12 – Teatro Kismet OperA
16.00 / 19.00 – System Actions for dance in Puglia – Meeting coordinated by the Teatro Pubblico Pugliese
21.00
Mental Abstractions …by and with Lidia Serini and Antonio Abatangelo
Blame the Moon – School Danzarte – Altamura
I do not know what I am, what I do. Maybe I'll make the designer  by Barbara Toma – Flick Project – NATIONAL PREMIERE
pause
Tao te Ferenc Fehér (Hungary)
11/12 October 2014 – Teatro Kismet OperA
Transformations in motion
Photo exhibition by Tina Masellis
Training
20/27 of July – Castellana Grotte Italy as part of the WDM (6/27 July)
Flick first step a network with the World Dance Movement in Italy by the choreographers Barbara Toma (Italy) and Martz Eva Sánchez (Spain)
October 4 – Dance Studio
10.00am/1.00pm Martial arts and dancer's  movement: the "energy body"  workshop with Maestro Franco Gervasio
2.00/4.00pm Flying Low masterclass with Lisa Masellis
5.00/8.30pm Dance history meeting: Dancer, mover, performer: is a hosing down body dancincing? with Francesca Berardi
October 5 – Dance Studio
10.00am/1.00pm Martial arts and dancer's  movement: the "energy body"  workshop with Maestro Franco Gervasio
October 5-10 – Dance Studio
Flick second step a network with the World Dance Movement in Italy by the choreographers Barbara Toma (Italy) and Martz Eva Sánchez (Spain)
October 11 – Teatro Kismet OperA – Strada San Giorgio martire, 22/f – Bari
11.00 / 13.00 – Upon actuality – Masterclass with Simon Wehrli (Switzerland)
October 12 – Teatro Kismet OperA – Strada San Giorgio martire, 22/f – Bari
11.00 / 13.00 – Physical dance – Masterclass with Ferenc Feher (Hungary)
Box office:
full price ticket   10 euro
reduced-price ticket 8 euro (under 25 and over 60 years old)
extra reduced-price ticket 5 euro (dance schools)
Info:
info@qualibo.it
comunicazione@qualibo.it
335 7107603
info masterclass: 349.5429909 distribuzione@qualibo.it
Teatro Kismet OperA – Strada San Giorgio martire, 22/f – Bari
0805797667 int. 123/101
Pre-sale box office c / o La Feltrinelli-Bari
Online presale: On the website bookingshow.it you can buy tickets, get your place and avoid queuing at the box office!
QuaLiBò
Lisa Masellis, Francesca Giglio, Maristella Tanzi, Adolfo La Volpe
Artistic and organizational direction
Lisa Masellis
info@qualibo.it
Communication, organization
Francesca Giglio
comunicazione@qualibo.it
Organization, workshop
Maristella Tanzi
distribuzione@qualibo.it
Musical direction
Adolfo La Volpe
direzionemusicale@qualibo.it
Technical direction
Gianfranco Saponaro
Stefano Limone
Administrative Management
Elisabetta Pellegrini
amministrazione@qualibo.it
Press
Lorenzo Sette
ufficiostampa@qualibo.it
Graphic design
Maria Teresa De Palma
Documentation Festival
Cooperativa Camera a Sud
info@cooperativacameraasud.it
Web Design
Ilaria Molinari